---
2024 Trinity Yachts 167' (50.90 m) Tri_Deck
Gulfport, Mississippi, United States
T 052 UNDER CONSTRUCTION

Offered for the first time on the MLS, this yacht project is approximately 20% complete and all included equipment has been fully maintained in storage. Price includes Hull and superstructure modules, 2- 130kw Northern lights generators, bow thruster, Quantum central hydraulic system, fins, but miss
Motor Yachts / Superyacht
Power
New
Diesel
Aluminum Hull
HIN/IMO: Hull T-052
Vessel ID# 2784824 Last Updated: 2022-07-19 19:04:26
FEATURES:
Six stateroom layout layout sleeps 12
Full design & engineering package
$4.0 million savings over current replacement
Global fuel range
Owner Financing Available
Notable Upgrades:
Date Listed: 06/08/2022
Rare Opportunity To Create Your Dream Yacht
$

2,000,000

USD
€

1,894,710

Euros


$

2,719,876

CAD


£

1,634,862

GBP
Description
167' Trinity Aluminum Motoryacht
(FINANCING AVAILABLE FOR QUALIFIED BUYER OR SHIPYARD)
(NEARLY 20% COMPLETED)
This luxury six-stateroom Aluminum Motoryacht is nearly 20% complete and available for well below the actual cost invested to date. This is an opportunity for the right buyer or shipyard looking for a project. Designed with a top speed of 18.5 knots (based on CAT 3512), under 500 GRT, and with her Bahamas draft of under 8 feet, this is a great fit for an American yachting family.
The price of $2.0 million includes hull and superstructure modules, 2- 130kw Northern lights generators (new), bow thruster, Quantum central hydraulic system, fins, but missing rams, and a complete design and engineering package.
Specifications
HIN/IMO: Hull T-052
LOA: 167' (50.90 Meters)
Type: Power- New
Year: 2024
Beam: 28'
Draft Max: 8' 0''
Cabins: 6
Sleeps: 12
Twin Berths: 1
King Berths: 5
Full Beam Master: Yes
On Deck Master: Yes
Crew Cabins: 5
Captain's Quarters: Yes
Crew Sleeps: 9
Crew Mess: 1
Maximum Speed: 18.5 Knots
Cruise Speed: 16.5 Knots
Fuel Type: Diesel
Super Structure Material: Aluminum
Hull Material: Aluminum
Hull Shape: Semi Displacement
Air Conditioning: Yes
Tower: No
Bridge Clearance: 50'
Stabilizers Brand: Quantum
Bow Thruster: Yes
Fuel Tank: 16122 Gallons (61028.38 Liters)
Fresh Water: 2700 Gallons (10220.61 Liters)
Holding Tank: 300 Gallons (1135.62 Liters)
Gross Tonnage: 495
Displacement: 335 tonnes
Classification: ABS
MCA Certified: Yes
Designer: Trinity Yachts LLC
Interior Designer: Your Choice
Builder: Trinity Yachts LLC
Generators
Generator 1
Generator Make: Northern Lights
Generator KW: 130.00
Generator Date Hours Recorded: 06/08/2022
Generator 2
Generator Make: Northern Lights
Generator KW: 130.00
Generator Date Hours Recorded: 06/08/2022
Full Details
PRELIMINARY LISTING INFORMATION
SO, WHAT'S THE UPSIDE OF THIS PROJECT FOR THE BUYER?
You'll Save Time & Money –
When you look at the cost estimates to complete this yacht you'll see savings in both time and money. We are getting estimates from qualified shipyards that would like to be selected to finish the project (USA, Greece, and Turkey). We believe the final number should be at least $10 million less than starting from scratch based on what yachts in this size range are actually selling for on the open market today.
You'll Get A Respected Brand –
If you are not familiar with the Trinity brand they have built over 60 megayachts over the past 30 years and you will find them cruising everywhere in the world. They have attracted owners from industry, sports, and even royalty, and over 60% of their clients at one point were repeat owners which says a lot about how much fun the design and building process was at Trinity.
Read the Brochure -
If you are not familiar with the company you can learn a lot more about the history of Trinity in the attached brochure which even includes their connection to W.W. II when they took over the J.C. Higgins factory in New Orleans. General Eisenhower once made the observation the Higgins boats were critical to winning the war!
Every Trinity is a Custom Design -
All Trinity Yachts were fully custom-designed projects. For this yacht, we have several floorplan arrangements available. This is not like some of the well-known production brands you've heard of where there are a dozen or more identical yachts out there on the high seas. When you own a Trinity you own a signature piece, not another "me too" yacht.
A Strong Presence on the Global Resale & Charter Market –
Wherever you look up the Trinity brand on the internet (Google, YouTube, Multiple Listing Systems) you will find Trinity yachts. They are offered for sale by the best brokers in the world and you will see sisterships successfully chartering in every major port, and most important for the buyer, you will see a solid resale history of Trinity yachts in both the North American and European markets.
She Has Modern Styling –
When you look at the exterior styling for this yacht it is current in today's world and there is nothing dated about it. The construction is still at a point when you can make some changes depending on personal preference.
Offers Stability and Performance –
This yacht has a projected top speed of 18.5 knots if you use 2,250 hp Cat 3512B engines based on the proven design, and you will see Trinity sisterships of similar length that confirm it. In achieving that speed the design team managed to also deliver a hull shape that is comfortable in all sea conditions which is not always the case with fast yachts in this size range. Even just looking at the profile you can see the yacht is well balanced in the design of the upper structure which plays a big role in stability in heavy seas. Some of those "far out" designs you see in all the magazines today need special handling when the seas begin to build.
Spacious Contemporary Interior Space Plan –
We have recommended the six stateroom floorplan that is included in this listing because it works well for family use but is also highly desirable in the world of charter yachts. If you go with that layout then all of the engineering drawings are completed.
It can obviously be modified for an additional engineering cost and when you meet with your interior design team we have an alternate layout available for your consideration.
As you study the floorplan you will see there are no tight spaces on any deck level. It is easier to see that in the owner quarters on all decks but what may not be as obvious is the extra space in both the crew quarters and the engine room and a happy crew means happy owners. The extra room in the engine compartment means that servicing all the complicated systems required on a modern yacht like this will be easier on your crew as well.
Depending on your personal color preferences you have plenty of time to select the woods, marbles, fixtures, fabrics, and hardware when working with the interior designer that will personalize the yacht for you and your family. Finding the right interior design firm for this project and then deciding how much latitude you want to give them is one of the major cost variables you will need to think about upfront.
HERE'S WHAT ELSE YOU SHOULD KNOW
DOCUMENTATION OF THE PROJECT
We have full documentation for this project and where it stands at the moment. This is not some abandoned yacht in the back of some boatyard with no one to help. The yacht has been securely and properly maintained from the moment that production stopped.
RECENT INSPECTION OF THE YACHT
Since the yachts have been stored on land for years, one of the questions we have been asked is what about the condition of the aluminum and the welds. The yacht was inspected in January 2022 by an ABS Certified Welding inspector (and qualified surveyor) who is available to confirm that this yacht is ready to go back into production and there are no issues with the aluminum.
SUPPORT TEAM OPTIONS
One of the concerns people have when taking over any yacht project like this that has been shut down for years is who do I get to help me get the yacht finished including design work and the actual construction? We have the right answers and we have the right people - Designers, engineers, and project managers.
DESIGN & ENGINEERING –
You'll be glad to know that the original team that designed this particular yacht and the other Trinity's as well is available to help complete the remaining drawings if you want to change the design. If you like this exact layout all the engineering is complete. Everyone who was involved in this yacht from the CEO on down wants to see this yacht successfully completed and be part of the history of Trinity. Whatever help you need you'll find the right people are available to help you get this boat back into production as fast as possible regardless of where you decide to send the yacht for completion.
INTERIOR DESIGNER –
Some of the best interior design firms in the world have worked on Trinity yachts over the years and they would all be happy to talk to you about completing the project. In addition, depending on the location of the yard that will be completing the yacht, they may have some design firms they work closely with that you might want to consider.
COMPLETION OPTIONS
We will present you information on the yards that have expressed interest so far in completing the yacht. You're talking about a project in the $20 million range so this is a huge opportunity for the right facility. The fact that the yacht can go back into production as soon as it arrives makes it even more desirable for the right yard.
We have just started on the process and focused on yards with proven experience in this size range and located in an area with the critical suppliers needed to make it all happen. So far we have received preliminary bids from yards in the United States, Greece, and Turkey.
We also have updated shipping costs for transporting the yacht to the yards that are currently interested.
TRINITY BACKGROUND
The company originally started in the commercial craft segment and when there was a major slowdown in that industry they had hundreds of highly skilled aluminum workers, designers, and engineers about to be unemployed. They decided to shift gears and go into the yacht building industry in 1988 and created the Trinity brand. After decades of success, the custom yacht building industry faced a major slowdown and so the company shifted back to commercial and military contracts and was doing $75,000,000 a year in that part of the marine industry when the company was sold in 2015 by the founders.
CURRENT STATUS
This yacht is stored in Gulfport, Mississippi. It is secure and checked regularly. The yacht can remain in its current location as long as necessary for you to make the arrangements for completion.
The owner is prepared to do everything possible to make this a success for the buyer.
CURRENT VALUATION
One of the questions prospective buyers for this project are trying to answer is what is the boat worth as it sits right now in storage in Gulfport, Mississippi??
Looking at actual records production records from 2008 when production stopped here are the figures:
$700,000 in aluminum
35,000 hours @ $60= $2,100,000 in labor
$200,000 for generators
$233,000 for Quantum Zero Speed stabilizers
$1,300,000 for engineering
As you can see, the actual cost in 2008 was in excess of $4,500,000 back then.
Aluminum has more than doubled, so in today's costs, it's probably more like $ 6 million.
Vessel Locations & Events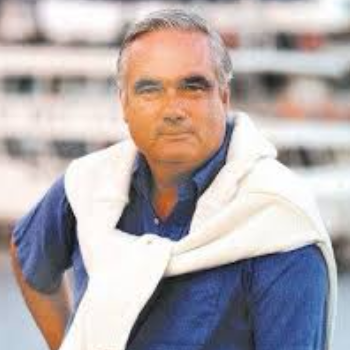 Michael Joyce
CEO / LICENSED BROKER
1887 West State Road 84
Fort Lauderdale FL 33315 USA
Office: 1-954-463-0555
Toll Free: 1-800-551-9590
Fax: 1-954-463-8621
Cell: 1-954-683-9800
Email: michael.joyce@hargrave.org


"My primary job is to not only protect you and your family along the way but to anticipate the problems in advance and avoid them wherever possible. From the day you buy your boat until the day you finally retire from boating I am always there for you and all my clients."